---
Welcome to Light News!
Where your spiritual self-empowerment is our most profound concern.
---
---
Light News Institute has found a permanent home in Encinitas!
You can now join Dr. Jelusich in this beautiful location for all your needs:
Private Sessions, In-Person Classes, Workshops and Events
Please come and check out our new shared facility space at the
Bamboo Gardens Wellness Center, 162 S Rancho Santa Fe Rd Ste. A30, Encinitas, CA 92024
---
ALL Classes including the ICT Mentorship Program are now offered World Wide via Zoom. In- Person Classes have resumed in San Diego, Nanaimo (Vancouver Island) and Calgary. Watch Light News Calendar for more updates.
Just drop Deirdre a line at: [email protected] or call 1-760-444-0238
---
Dr. Richard Jelusich is as "down-to-earth" in his private sessions as he is during his training sessions.
Dr. J personally assists his clients with tools on how to "comprehend" their:
mental, emotional, physical and spiritual states of being, while acknowledging the energetic presence of their dominant Chakra.
Come Sit down with Dr. J for a one-on-one Private Session.
*All Private Sessions are Recorded for your Convenience Book Now! By Calling: 1-760-444-0238
---
Giving Back to Community Free Monday Night Chakra Work/Healing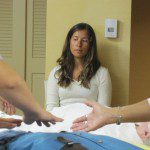 Dr. Jelusich has for years given back to the community through Full-Moon Meditations, FREE events and Subtle Energy Healing Sessions in various cities and countries. These events are free though they do cost us to host. Donations are gladly accepted to help pay for Zoom and Materials needed to provide this service.
Monday evenings Light News offers Free Energy Work for the public ONLINE and soon to be offered in-person in San Diego at Bamboo Garden Wellness Center (162 S Rancho Santa Fe Rd, Encinitas)!
JOIN US MONDAY NIGHTS AT 6PM PACIFIC! Again Donations are gladly accepted.
All Public Energy Balancing is now offered ONLINE every Monday.
You can logon at any time, 15 minutes before start and any time during.
Click Here to logon.
Join Students and Graduates of Dr. Richard Jelusich's Integrative Chakra Therapy®: "ICT Training for the Whole Human Being" and experience the benefits of subtle energetic balancing and spiritual healing. All students are highly qualified and are guided by ICT instructors and Dr. Richard Jelusich.
---

---
Dr. Richard Jelusich is a gifted intuitive spiritual counselor/energy healer, author, teacher, experienced international speaker, and ordained minister. With over 30 years in the field of spirituality and the study of metaphysics, he now dedicates his life to those on a quest for self-empowerment through education, demystifying metaphysics and assisting individuals to honor their natural gifts and inner truths.
"So gifted is Dr. Jelusich, that he is able to apply his own soul's grace, empathy, intuition and humor in a "reading" of flowers that meets each individual's comfort level, cognitive level, level of wisdom, and spiritual growth."
---