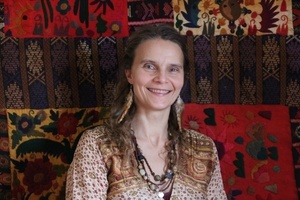 Bev, a mother of three and grandmother of one, comes from a life-long passion of connecting with  nature and it's wisdom and country living. Inspired by the natural world, Bev pursued a career in the natural and complimentary health field after
completing the home schooling of her three children.
She currently has eight years of experience working in this field during which she took various courses and workshops in nutrition and wellness, cold laser therapy, applied kinesiology, and Brain Gym. Also during this time, she mentored under the lifestyle and wellness wisdom and expertise of Dr. Scott Melrose, D.C., at Glenmore Landing Chiropractic and Wellness Clinic, where she was clinic manager and Dr.'s assistant.
She also, simultaneously, studied for two years to become certified for the course, 'Spiritual Healer's Training for the Whole Human Being', under renowned spiritual healer, counselor and author, Dr. Richard Jelusich, PhD., with Light News, the healing school for which she currently volunteers as an assistant teacher.
Graduation: 2011
Energy & Chakra Balancing, Herbs & Herbal Remedies, Reflexology, Aromatherapy, Cold Laser Therapy, and Birth Doula Services
Calgary, AB  Canada
Website : www.sagetraditions.net
Email : bev@sagetraditions.net
Dr. Richard Jelusich is a gifted intuitive spiritual counselor/energy healer, author, teacher, experienced international speaker, and ordained minister. With over 30 years in the field of spirituality and the study of metaphysics, he now dedicates his life to those on a quest for self-empowerment through education, demystifying metaphysics and assisting individuals to honor their natural gifts and inner truths.